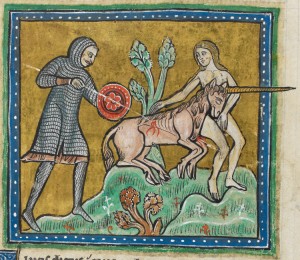 Let's talk unicorns.
And I'm not thinking of Twilight Sparkle. Legends about the unicorn differ, as is typical with mythical beasts. Some tales describe interaction designers who are also talented visual designers. Others carry news of the rare designer who can also code. And the wildest tales of all describe a designer who is supernaturally capable of anything. These conflicting tales confuse those seeking to hire designers. And of course designers may be asking themselves: "Am I a unicorn, or not?" And since all designers consider themselves magical, if not actually sparkly, the potential for an identity crisis is acute.
A Designer Bestiary
But fret not! Found in a dusty library in a long-forgotten corner of the Bay Area, a tome once thought lost to the centuries has now been found. (It was on display in the bottom of a locked filing cabinet stuck in a disused lavatory with a sign on the door saying "Beware of The Leopard".) Within it's pages lie descriptions of a vast assortment of legendary creatures. In a Medieval Bestiary, each entry would describe the characteristics, habits, and nature of a type of creature. Creatures were understood to be both real (if you sailed far enough you might meet one) and allegorical (the story of the Pelican echoes the Bible). Whether the descriptions within A Designer Bestiary are similarly allegorical is disputed by historians and Human Resources professionals alike.